I must say it has been a

positively

lovely

morning for me. Why, you might ask...after all it is Monday...weekend is over...back to the grind. Actually

I really like

Mondays.

Monday is usually my cleaning day & I love a clean house. Monday means we get back to our schedule & I love being on schedule. Monday means family night, which our kids LOVE & which always brings me back to what is most important. HOWEVER today is an unusual Monday.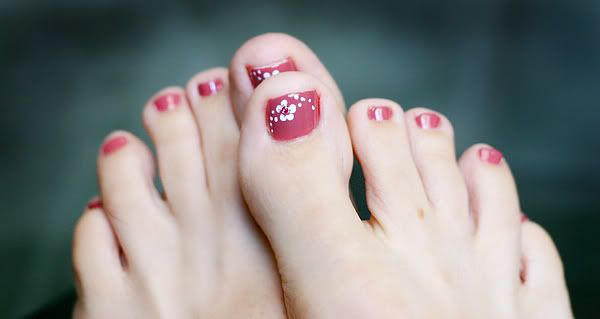 This morning

I got to hang out

with one of my VERY

bestest

friends in the world...

the divine Miss J

...who has been my friend for over 20...yes 20....years. We got PEDICURES!!

I love pedicures

, but never get them because I can't justify the expense. However, today I had a gift card from my birthday (thanks R&C!!) and so I indulged. I even got a flower put on....oh

frivolous

me.
I am eating chocolate covered strawberries

at this moment, which I received yesterday from a church friend...

mmmmmmmmmm

!
I steam cleaned the carpets

over the weekend and so, even though I haven't done my usual Monday cleaning,

my house still looks good

.
My babies are napping peacefully

and

the house is absolutely still

...minus the sound of my fingers tapping away on the keyboard.
The

weather is still absolutely HEAVENLY

, breezy & 75 degrees.....blissful!
I've even had a chance to read a chapter from my latest book club book, the ORIGINAL Phantom of the Opera

while

snuggling with little L

as he fell asleep.
Just now

my sweet friend Jenny O.

dropped off

the most darling little dress for Baby B

that her little girl has grown out of. I'm so excited

cuz

Jenny has GREAT taste.
And all is right with the world.